Your holiday apartment in the Badia Valley
at the farm Pramperch
Our apartments in La Valle – just above Pederoa on the eastern slope of the Badia Valley – offer you a wonderful view of the Dolomites all the way to the Marmolada. Your accommodation in Alta Badia in the apartments at our holiday farm Pramperch have comfortable wooden furniture and wooden floors. The modern bathrooms are equipped with shower, sink, bidet, and toilet; the largest apartment "Pütia" even has a bath tub. After an exciting day of skiing or a long hike, you may take a warm bath, or a fresh shower, and then prepare a delicious dinner in the modern kitchen. The holiday apartments offer a separate kitchen or an eat-in kitchen, fully equipped with stove, fridge, dishwasher, and all necessary cooking utensils. Even a microwave and a coffee machine are available. Grocery shopping for self-catering is not a problem in nearby La Valle or in San Martino.
Overview of our 4 apartments
Your accommodation in La Valle
Peace and panoramic views
Two of our holiday apartments have a private balcony. From all four apartments, you have access to the garden and lawns, and you may enjoy the mountain view that our location in the Badia Valley offers you. Above Pederoa, in our secluded area you'll experience pure tranquillity to relax, to read books, to rest in the garden or to enjoy a barbecue. For your children, there is a playground with a sandbox, a slide, a trampoline, table tennis, table kicker and endless space for playing and romping freely. Furthermore, kids are always very enthusiastic about the animals on our farm. Play with the cats, feed the rabbits, chicken, or horses, assist the farmer milking in the barn, or simply watch the calves as they jostle across the mountain meadows – your children will have a great time. This way, the parents have peace and time for themselves.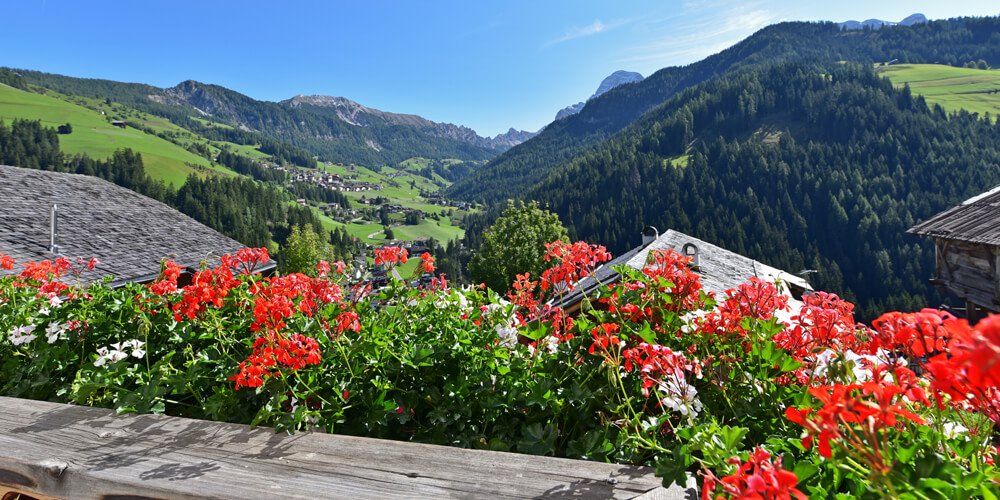 Furnished accommodation
in Alta Badia
All vacation rentals at the holiday farm Pramperch offer comfortable, modern beds. The apartments have SAT-TV and an internet connection. We offer a car park or garage, bike rental and a separate ski room. Bed linen, towels, and kitchen linens are provided upon request. The apartments "Sennes" and "Pütia" have private balconies with a wonderful panoramic view. Treat yourself to a breakfast or dinner on the balcony in the soothing peace of your holiday apartment in the Badia Valley.
Price list
Conditions & inclusive services
Per day and person
Minimum
Maximum
Apartment Fanes
€ 25,00
€ 28,00
Apartment Sennes
€ 25,00
€ 28,00
Apartment Pares
€ 25,00
€ 28,00
Apartment Pütia
€ 25,00
€ 28,00
For stays of min. 7 days, per day and person.
Prices and Discounts
The prices apply for a minimum stay of 3 nights per apartment and night, with occupancy of minimum 2 persons.
The prices include: Fully equipped kitchen, TV and radio, electricity and heating, dishwasher, washing up liquid, bed linen, bath towels, bread service, free parking place, final cleaning and any fees and taxes, with the exception of local tax.
A washing machine can also be used with pleasure.
The amount of local tax is calculated based on the municipal regulation at the time of the stay (01/2019: 1,40 € per night and person above 14 years of age)
Will be charged separately: bed linen and bath towels
Discounts for children
Children discount: up to the age of 4  – 50%
Baby equipment is available free of charge upon request.
Pets
For your four-legged family members we charge 5,00 € per day (food is not included)
Please bring your own basket or blanket for your pet.
Please make sure your pets don't cause any damages in the holiday apartment. The cost of any damage will be charged!
Out of respect for our other guests, animals are not allowed in the dining areas.
Booking
Please note: The booking becomes binding at a payment of a deposit for confirmation (booking guarantee) and the transmission of the booking confirmation. In case of cancellation, the deposit will not be reimbursed.
Additional charges and terms of payment
Deposit: We welcome written reservations via e-mail. The reservation becomes binding once the deposit is paid by 150,00 € per week.
Please fill in your name as the purpose of payment.
Bank details:
Cassa Raiffeisen Filiale Pederoa
Costabiei Francesco
IBAN: IT 78 C 08010 59130 000303004244
SWIFT: RZSBIT21308
The deposit will not be refunded in case of cancellation. We will also apply the below cancellation conditions.
For stays of less than 2 days there is a surcharge of 23,00 € per person and night.
The fee for final cleaning is already included in the price.
Payment:  Please pay cash on site. The cash limit in Italy amounts to 2.999,99 €. The following payment methods are allowed: non-transferable check, bank transfer.
Arrival and departure
Arrival: On arrival day the apartment will ready for you starting from 4 p.m. Of course, you can also arrive earlier, but but the accommodations will ready for you only at 4 p.m. In case of a delay, we look forward to receiving a message from you.
Departure: On departure day, please leave your apartment not later than 9.00 a.m. Other times are possible upon request.
Cancellation
Cancellation conditions according to Art. 1382 Civil Code
According to the Italian Consumer Protection Code, there is no right of withdrawal. However, we grant you the right to withdraw according to following cancellation conditions as defined in art. 1382 (Civil Code):
You may cancel your reservation until 30 days prior to arrival without any cancellation fee.
In case of "no show" or early departure, the guest is required to fully pay for the entire booking period.
Please inform us in advance if you are unable to take your holiday.
You never know…
We are looking forward to your visit. However, we recommend that together with the booking of your stay you close a "Cancellation Insurance". This way, cancellation fees are covered and you can happily look forward to your vacation. Further information about costs and details of the "cancellation insurance" are available here:
This is a required information according to EU-Regulation No. 524/2013 of the European Parliament and the Council. The platform for the on-line-resolution of disputes in consumer law (ODR) of the European Commission can be found here: ec.europa.eu/consumers/odr/
Exlusion of liability
We strive to provide accurate and complete information on this website. However, we assume no liability or guarantee for the topicality, correctness and completeness of the information provided. We reserve the right to make changes without notice or to amend the information. Only the specific service offer or the booking confirmation is binding. For external links we can – despite careful control – assume no liability. For the content of linked pages exclusively their operators are responsible.
Data Protection
For the purposes of the GDPR, we inform you that your data will be used and saved exclusively for processing your application and will not be disclosed or distributed to third parties. Regarding data processing, you are entitled to all rights according to the GDPR. The holder of the rights is Costabiei Francesco – For more information about your rights, please visit here .
Please note
We specifically refer to the legal provisions Art. 45-67 of the Italian Consumer Protection Code 206/2005.