Nature vacation in La Valle
in the South Tyrolean Badia Valley
You wish to experience nature, majestic mountains, gentle flowering alpine meadows, spectacular waterfalls, and bubbling brooks? Simply spend your vacation in the Dolomites at our holiday farm Pramperch in La Valle. Our farm above the small village of Pederoa in the Badia Valley is surrounded by meadows and forests. From here, you can see the Cima Nove, Cima Dieci, Sasso Croce, Pares Group, Gardenaccia and – in the distance – the white Marmolada, the highest mountain of the Dolomites. Starting directly from our farm, you may explore La Valle, take a hike to several alpine farms, and walk to Chi Jus, Spizan or across the Armentara meadows. Walk from La Valle to Mount Pares, to the Sasso Croce or across the Fanes Altitude Trail during beautiful mountain tours with magnificent views of the Dolomites.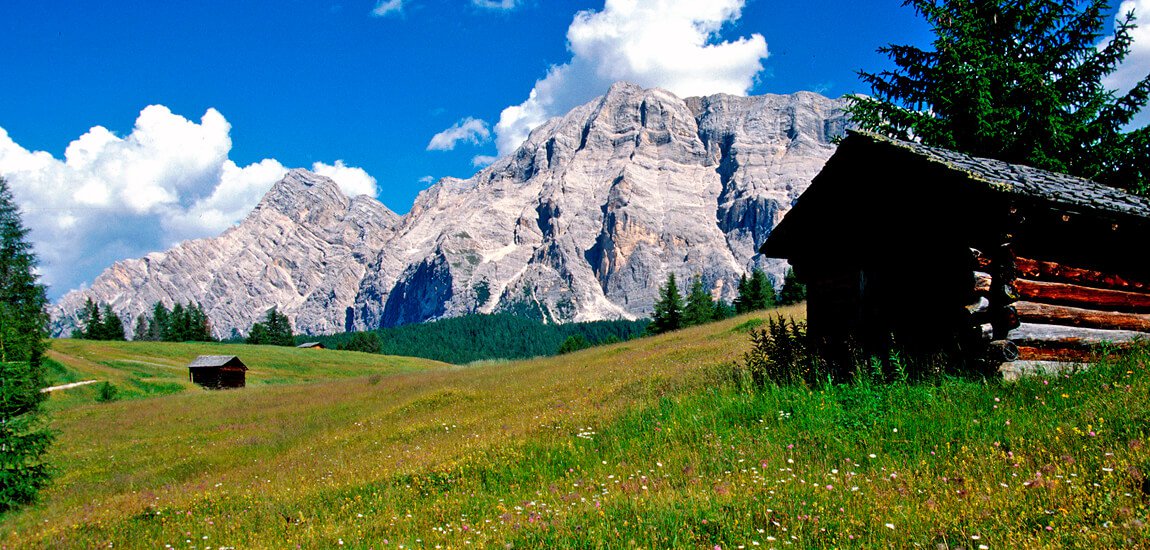 Discover the Badia Valley
during a nature holiday
The Badia Valley stretches from the Pusteria Valley in the north and branches into the south to the western Gardena Pass, the Campolongo Pass and the eastern Valparola Pass. In every village along the Badia Valley Road you will find ideal starting points for hiking excursions in the surrounding mountains. Various cableways take you into the alpine world of the Dolomites: in the summer for hiking, mountaineering, climbing or kite flying, in the winter for skiing, snowboarding, cross-country skiing, or tobogganing. You may easily reach all cableways by public transport. The Mobilcard allows you to use all public transport in South Tyrol; the Museumobil Card gives you free entrance to 80 South Tyrolean museums; and with the Bikemobil Card you may rent a bicycle.
Destinations
for your nature vacation in the Badia Valley
The life of the cave bear and prehistoric life is displayed at the Museum Ladin Ursus ladinicus in San Cassiano. Furthermore, it shows the geology of the Dolomites in a child-friendly way. Just above San Cassiano, there is a fitness trail of a special kind. At 2000 meters of altitude and surrounded by pure nature, fitness equipment is available free of charge. Movimënt – the name of the airy fitness centre on Piz Sorega and Piz la Ila. Train your body, admiring the mountains Sella and Marmolada, and enjoy a nature holiday of a different kind, which is only available in South Tyrol.
The Adventure Park in Colfosco offers a modern high-ropes garden. The excellently secured five courses in different levels of difficulty guarantee plenty of fun and excitement.